Bubbles & Natural
No matter what the grape variety, it is bubbles and we love it!
Low intervention wines are trendy in the Czech crew in the same way as around the world.
Local Darlings
You definitely know some of them, Grüner Veltliners, Blaufränkisch or even Welsch Rieslings but are they any different in Czechia??? Come to the booth and meet local Pálava (white and aromatic) or St. Laurents (light and fruity red), they are quite unique to our region.
The Internationals 
You can find them in many places in the world, those with Czech roots are pretty solid in acidity, spiciness and fruitness, taste some great Rieslings, Sauvignons, Chardonnays, Pinots Blanc and Noir too.
In the hall 4 look for the CIRCLES designed by CHYBIK + KRISTOF ASSOCIATED ARCHITECTS. Czech booth (A20) is talking to each visitor by circles and rounded shapes so typical for winemaking. Every morning and afternoon you can meet different group of winemakers. The representation is unbelievably colourful: meet micro winemakers beside the representants of some biggest companies in the country.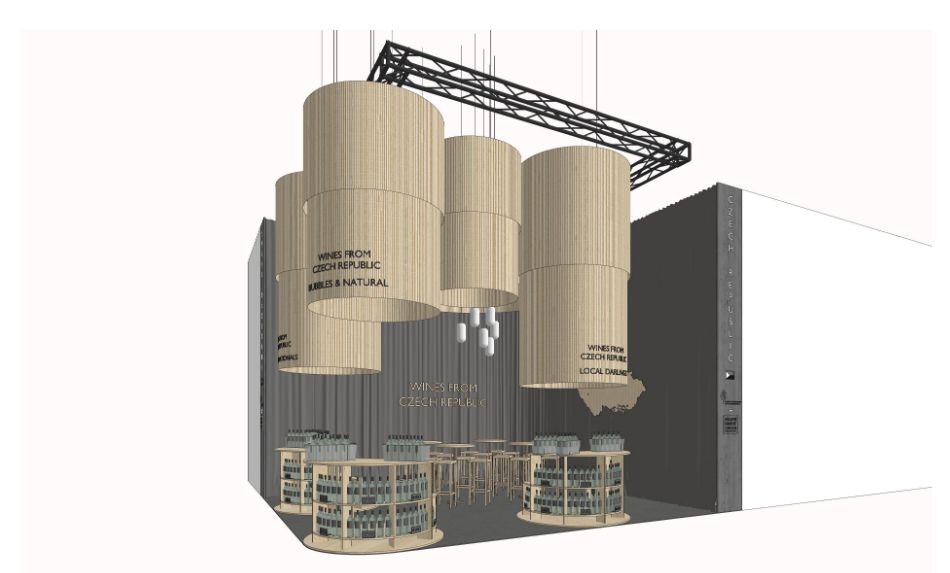 You will find the winners and finalists of various important competitions in Czechia (Winery and Winemaker of the year, Czech National competition etc.) as well as successful exporters around the globe. Czech wine has already found its fans in many different countries from Japan, through the UK and Sweden over to the US and Canada.
What´s so special about Czech wines?
Moravian and Bohemian white wines are characterized by their fascinating spectrum of aromas, rich extractive substances and harmonious combination of full-bodied flavours along with fresh, vibrant acidity. Recently, red wines have also been gaining ground, which, thanks to modern technological processing, are full-bodied and expressive, yet soft and velvety, with a pleasant fruity aroma. Rosé wines are also keeping the trend - beautiful not only for their colour but also for their exceptional youthful character.
Check in for Czech happy hour
Every day at 11 AM there will be a session with Czech National sommelier, Klára Kollárová, WA.
Sunday: Magnum bottles
Monday: Old vintages of international varieties
Tuesday: Rare samples of local darlings
Come and meet Czech winemakers and representatives they are eager to show you how special our wine is.
List of wineries (with links to their web sites):
| | |
| --- | --- |
| Vinařství THAYA | |
| Vinařství LAHOFER | |
| Zámecké vinařství Bzenec | |
| Mikrosvín Mikulov | |
| BOHEMIA SEKT | |
| Vinařství MOSI | |
| Vinařství Fabig | |
| Vinařství Popela | |
| Gurdau Vinařství | |
| Vinařství Piálek a Jäger | |
| Vinařství Volařík | |
| Vinařství Sonberk | |
| Vinařství Obelisk | |
| Vinné Sklepy Kutná hora | |
| Vinařství Válka | |
| VINSELEKT MICHLOVSKÝ | |
Contact person:
Dagmar
Fialová

Marketing Director

e-mail:
dagmar.fialova@vinarskecentrum.cz

phone:
+420 720 820 921

Klára
Kollárová

National Sommelier

e-mail:
klara.kollarova@vinarskecentrum.cz

phone:
+420 608 116 085

Zuzana Vejmelková

Export Coordinator

e-mail:
export@vinarskecentrum.cz

phone:
+420 608 676 056
National Wine Centre of the Czech Republic.
https://www.vinarskecentrum.cz/en/